Sectional Table Design
The basic sectional element that is used to build Sumida Crossing is a two-foot deep, four-foot long table with a plywood top and dimensional pine sides. Holes are drilled in the ends and top for wiring to pass through, and one or two layers of pink insulation foam are glued atop the wooden structure. The layered foam allows for significant relief (hills) to be carved into it, and for a subway to be placed "within" the table structure. A front fascia hides the foam edge, and was to provde a place to put any needed controls (there would have been few, as handheld DCC controls are used for most things). In the end, no controls were mounted to the fascia. On some tables, there is a backdrop held in place with vertical uprights. The fascia extends slightly above the surface to catch derailed trains, and as described below plexiglass is added in some places to provide a safety wall where extending the fascia is undesirable.
Note: See the
Construction
photo albums for images of the baseboards, backdrops and scenery under construction.
Original table design (four layers of insulation foam)
The original design (above) was to have over four inches of foam atop the wooden table. I'd revised this even before I added the foam. Some mock-ups of bridge heights convinced me I didn't want that much height difference from "ground" to river surface, and some measurements convinced me that 2" would work for the tunnel height. Capping the tunnel is a bit tricky. I used a removable top made of 2mm (0.080") styrene, which can be used to support buildings and roads above the tunnel.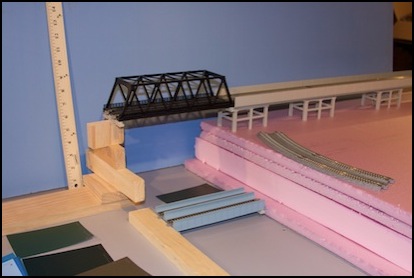 Original Foam Layering Test
The tables were built using screwed butt-joint construction of 1x3 pine, topped with a half-inch plywood top panel. This provides a solid base for scenery. This is overkill, and 1/4-inch plywood atop 1x2 pine would probably have been strong enough. But weight really isn't an issue, and long-term dimensional stability is, so I opted for a very conservative structure. Half-inch plywood has more layers than 3/8'th inch or 1/4 inch, making it less prone to warping.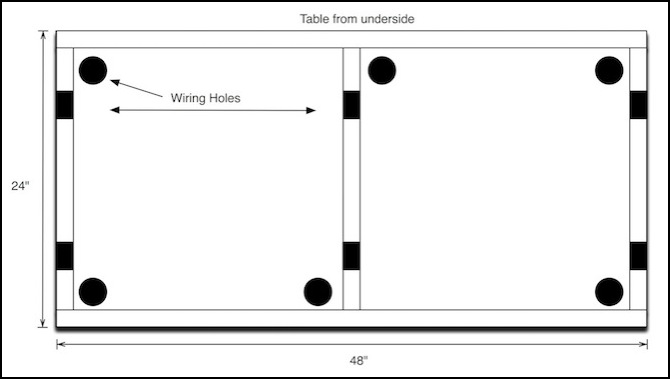 Thicker plywood also provides a strong structure to attach to with screws, which will be important for the DCC electronics (e.g., circuit breakers and block occupancy detectors), which will mount to the underside, and for things like Tortoise switch machines, which I expect to use for crossing gates. And the 3" sides (2.5") will provide protection for a sideways mounted Tortoise when transporting the tables.
One table section atop the support frame (tables in the background are from my old HO layout)
These tables are
painted with primer
on both sides to seal them and minimize expansion/shrinkage, and sit atop a wooden framework support. I could have just rested them on an ordinary table, but I wanted more flexibility. Where tables meet, bolts are used to secure them to each other.
On some of the tables I needed more than just a simple hardboard fascia panel. In the Urban Station scene, I have the fascia top flush with the foam top to permit maximum visibility. For the subway scene, the fascia extends up to be flush with "ground level", but with cut-out openings to reveal the subway station. For these, I have removable plexiglass panels to prevent derailed trains from leaving the table, while still permitting visibility and access.
To do this, I glued a couple of small (1" x 3") strips of hardboard to the table, then drilled the mounting holes for the bolts holding the fascia through it and them. A washer or two creates a gap above the strip wide though to snugly hold a sheet of 1/4" acrylic (plexiglass), which rests atop the hardboard strips so it can easily be lifted out vertically. This has worked out fairly well.
I'm probably going to do something slightly different on the unsceniced curve, using thin bendable strips of acrylic screwed to the plywood subroadbed, but I'm still considering exactly what to do there.
For more about the actual construction, see my
Layout Construction
pages, in particular the
Fascia
page.