Tōkyō Highway Scenery
Tōkyō has a number of highways, often simple two-lane (one each way) roads, but also larger roads with two or even three lanes in each direction, plus additional turning lanes at intersections. Beyond this, there are also limited access expressways (typically toll roads operated by private companies).
See my Tokyo Metropolitan Expressway page for more detail on the Mukojima route section.
Highways
Some of the ground-level highways can be quite complex, with multiple through lanes, turning lanes, street parking, pedestrian crosswalks and trees planted along the edges, or even in the median strip. Not all roads in Tōkyō are the narrow ones that first come to mind. More photos of these can be found on my
Tōkyō Street Scenery
page.
A complex highway intersection in Tōkyō (2006)
Photographer:
bhaktano1
Shuto Expressway
The
Shuto, or Metropolitan, Expressway
is a privately-operated network of toll roads around Tōkyō, which includes the iconic
Bay Bridge
and Bayshore (a.k.a.,
Wangan
) Expressway. It includes inner (C1) and outer (C2) beltway routes, caller "circulars", as well as a number of radial routes.
Much of the Shuto Expressway is elevated above waterways, as landowners did not need to be compensated.
Wikimedia has
an extensive collection
of photos of different routes of the expressway.
Map of the Shuto Expressway (click for larger map in .svg)
Source: Wikimedia, Author: Tokorozawa22,
Widehawk
Here are some pictures of highways and expressways around Tōkyō. Click on the photo for the original page with creator attribution and other details.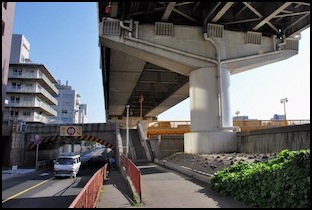 L: Shutoko No. 6 Mukojima Line, at the end of Kuramae-Hashi (2008); R: Shutoko Gofuku-bashi Ramp (2008)
Photographer (both):
ykanazawa1999
L: Shuto Kosoku Wangan Expressway, from JR Keiyo line (2006); R: Expressway over the Sumida (2009)
Photographer: L:
pictureTYO
, R: caaribb
Note: the right-hand photo is no longer online.
Shuto (Metropolitan) Expressway No. 6 along the Sumida (2006)
Photographer:
dshack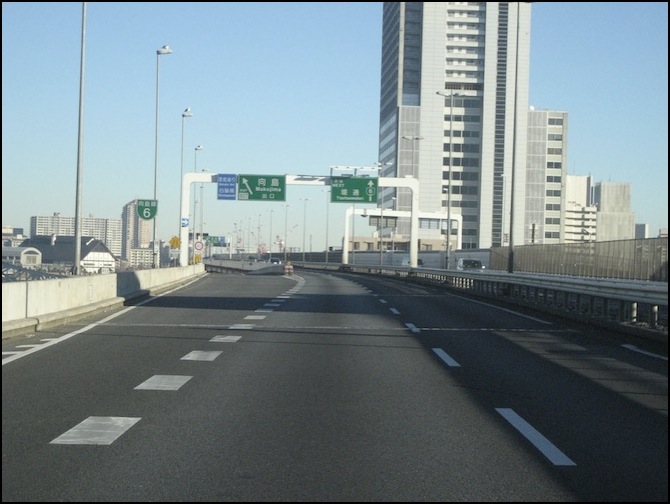 Shuto Mukojima Interchange (2008)
Photographer: Ebiebi2
These are two useful photos of route 6, which runs along the east bank of the Sumida river. In the upper one, note how it's raised above the floodwall along the riverbank, and its thin profile of red girders and white concrete railings. The supporting posts are fairly far apart, too.
The lower photo provides details of the upper surface. Note the use of a low concrete side on the left (typical of sections above water or lightly-populated areas) and the mesh fencing on the right (typical when crossing over major streets and busy areas such as pedestrian plazas), as well as the expansion joint (horizontal line), simple guardrail center-divider, the signage, and the light poles (with seagulls). On other stretches the light poles are in the center, and have two lamps, but are otherwise very similar.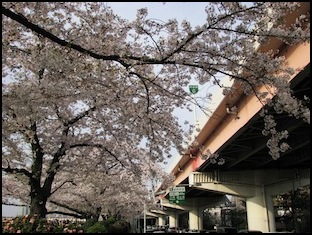 L: Exterior near northbound entrance 606 (2011); R: Sumida Park in Mukojima (2008)
Photographers:
Aimaimyi
, e97h0017
Detail of the section over the Chūō-Sōbu line, note different girders, paint, and safety fence (2009)
Photographer:
ykanazawa1999