Upper Level Return Tracks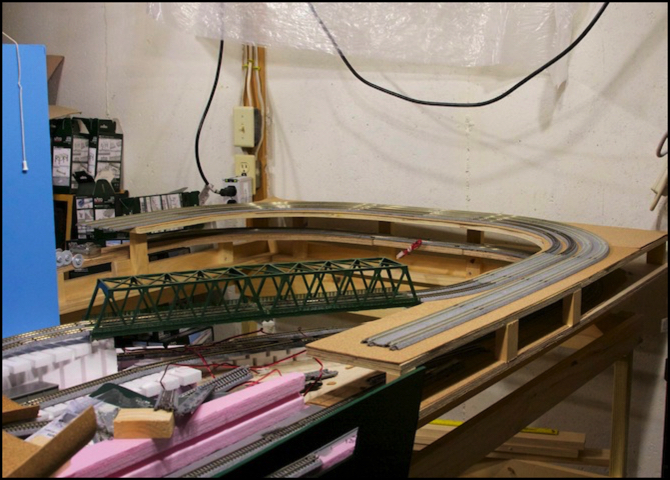 I took a short break from working on the elevated station to assemble the upper level of the unsceniced end, as well as a couple of lower-level (i.e., subway or "water" level) sections of plywood adjacent to and extending the
Urban Station
and
Riverside Station scenes
. This is described and illustrated on the "phase 2e" Construction page. This was straightforward cutting of plywood and screwing it in place, then adding cork to the upper surface. Some of this cork will be visible, and needs to be painted (and the adjacent wood sceniced somehow), but most will be behind viewblocks.
I also decided how to end the Urban Station scene: on the extension will be a small canal, with the "commercial avenue" continuing over it on a bridge. This is based (very roughly) on the Yoko-jikkengawa river (see pictures
here
and
here
), a north-south canal in Sumida that crosses route 14 near Kinshicho station on the Sōbu line, connecting the Kitajyukkan River on the north to the Onigagawa River on the south. All of these are artificial canals (some dating from the 1600s) about 20 meters across. The bulk of Sumida ward is low-lying flatland criss-crossed by canals, and I'm trying to capture that feel in my urban station scene, hence the addition of the canal.
In addition I've been working to finish the elevated station platform supports, but I'll document that when it's finished (which should be soon); it's been going slowly, but I'm nearly done. I'm hopeful that I'll be able to run a train around the "commuter" loop fairly soon, although part of that (in the Riverside Station scene) will be very temporary, as that's likely the next area I'll turn my attention to, which means taking the temporary track apart there.
Other website changes: